12 November 2007 | Race Reports
East Coast 'Cross and Goat Roasts
Dusty and I have been back east for a few days now, and it is definitely more November-like here than in Colorado (where temps were getting up into the 60s during the day). We decided to do a few more UCI races before the next USGPs so that I can get a better starting position.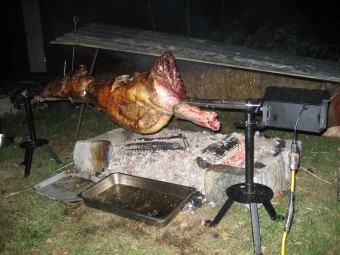 The night before the first race, Mom and Bo had a bonfire and goat-roast at the farm. They had bought the goat at the livestock auction and then… did the dirty deed. I don't have a "before" picture (I'm sure it was cute…) but I included the tasty-looking "after" picture. Anyway, it was a fun party and we got to see lots of friends and family that we only get to see a few times a year.
So onto the racing…
Saturday we raced at Beacon which is one of my favorite courses. It has a little bit of everything –fast, technical, sand, and a pretty sizable run-up. I decided to do the B-Men's race before the women's race to get some good training in. I started at the back of the pack, but I was able to keeping moving up throughout the race and ended up winning. My legs felt great and I felt really smooth on the course and strong on all the running sections. I had about an hour and a half break after the men's race, and I was feeling good by the time I lined up for the women's race. I got the hole-shot and didn't look back. Since I had already done one race, I had all the lines dialed in and the women's race was super fun. I raced hard the whole time, and ended up winning that race too.
Sunday's race was in Jamesburg, New Jersey, and we were interested to see the new Highland Park course because the last time we raced there was in 2005. I remembered the course as being hard because it was dead-flat and had a lot of long straightaways, so there was little recovery. The new course was in a beautiful park and all the leaves were changing (we promised each other we would take tons of pictures but somehow that never happened). The course was really fun, and very fast there were a lot of short power climbs and a bunch of off-camber turns. There was only one set of barriers and no run-up so there was very little time off the bike. I raced again with the B-men and had a little bit harder time moving up from the back. After about 4 laps I was riding by myself about 10 secs back from the next group. Not exactly sure where I finished, but I think it was top-15. My legs were a little flat from the racing the day before, but I got in some good training nonetheless.
After the men's race, I went to go and spin my legs a little, but it was so cold I decided it was doing more harm than good, so I opted for sitting in the car (it was really sunny, so the car was nice and toasty). It was so warm and comfortable in the car that I actually dozed out a few times, and when I finally got up, about 30 mins before the start of the women's race I was pretty groggy. I'm not really a huge coffee drinker, but a double espresso would have been nice right about then. Luckily, Dusty's sister Kate had a Coke for me, so I good a good shot of sugar along with the caffeine.
At the start of the women's race, my foot came out of my pedal and I ended up 4th or 5th going into the first corner. I moved up on the climbs and had a few seconds gap by the middle of the first lap. I stretched it out over the next few laps and really tried to go for it, even though my legs were screaming. I ended up winning the race, and getting some super training in the process. I am getting really excited for next weekend, it's going to be a fun one!
---