7 June 2008 | Race Reports
Race Report: World Cup #5- Ft. William
Saturday's race saw dry conditions and warm temperatures- it was even a little on the hot side. I had a great start and was sitting in third-fifth for most of the first couple of laps. I was pretty comfortable- I wasn't riding over my head, but on the 3rd lap, a few women passed me and though I tried to stay with them, I felt I needed to conserve a little bit for the remaining 2 laps.
4th lap I was starting to cramp, and so I backed off and started riding my own tempo (which unfortunately was a slower tempo than the 3 or 4 women who passed me on that lap…). On the fifth lap I started to feel a little better, although my legs were still a little bit crampy. I managed to hang on for 11th. Not stellar, but I felt it was a much better race than last weekend in Andorra. I am hoping that I continue to feel better these next couple of weeks. It would be great to be feeling top-notch for Worlds.
After the race we hung out and watched the men race- they all looked like they were suffering pretty good too. Good rides for the American guys- they have been super-consistent this year, and it has been great to watch them doing well at the World Cups.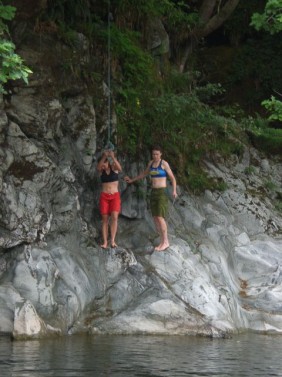 After the men's race we headed back to our house and spent a little time swimming/ rope swinging in the river nearby. The rope swing looked pretty sketchy- it was actually two ropes tied together. The bottom one was pretty sturdy-looking, but the top one hardly qualified as "rope"- it looked more like "twine" to me. It seemed more suited to someone under the age of, say, 10. Waldek was undeterred though, and he went first. It was a pretty good swing, although you had to let go because if you swung back, you would smash into the rocks. Awesome.
---