12 October 2008 | Race Reports
Cincinnati UCI 'Cross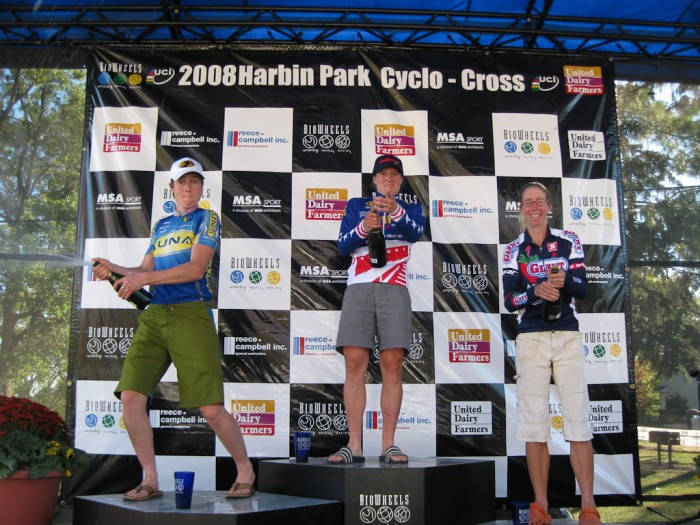 This weekend I headed to Cincinnati for 3 days of UCI racing. Two of the days boasted equal prize money for the top-5 men and women, so I was happy to come and support promoters who are standing up for equality. Thanks guys!
I arrived Thursday afternoon, and the first day of racing was on Friday. The course was pretty fun- very fast with a few chicanes and ditches to keep you on your toes. I botched the start (I forgot that once they give you the "30 sec warning" the official can fire the gun at any time- unlike MTB racing where they count all the way down) In any case, the start took me by surprise as I was staring at my front wheel, kind of spacing out. I managed to move up pretty quickly and was sitting in 3rd behind Sue and Katie for the first half of the first lap. Katie crashed and I went around her, then Sue unclipped in the next corner but somehow I managed to avoid calamity. I went around Sue, Katie went with me, and we soon opened up a gap. Katie was doing most of the work as I waited (in vain, it turns out) for my legs to open up a bit. No dice. Luckily Katie wasn't too interested in really crushing it and we rode around at a fast-but-manageable pace taking turns at the front. Then she attacked me on the last lap and I just didn't have the kick to go with her. I ended up 2nd and Sue finished behind me in 3rd.
The next day's course was super fun and again, very fast. There were lots of short punchy climbs, a sand pit and some fast sweeping turns. I wasn't very aggressive at the start and ended up behind a rider that came to a complete stop before dismounting at the barriers. I was expecting her to keep coasting, so I had to slam on my brakes (I still ran into her) and I came to a stop too, as everybody rode around me. I got over the barriers and up the run-up pretty quickly, but I could see that Katie, Rachel and Sue already had a pretty big gap, and I chased hard to catch up. Before I could manage that, Katie attacked the group and was off the front on her own. I moved up steadily, was riding in 2nd maybe 10 secs down from Katie, when I flatted my back tire. Dang it! "Oh well," I thought, "at least the pit is close by." It turns out, the pit wasn't close by and I had to ride/run for a good half a lap with my flat before I was back in the pit. Luckily Kris Auer was in the pit "just in case" with some extra wheels (I only flew with one bike and zero extra wheels). Kris and Mark (Katie's husband) changed out my wheel, and I was back on my way and somewhere in the teens. I rode hard and ended up picking off a bunch of people to end up 6th. It was a little disappointing to have the flat, but at the same time I was glad to be able to finish (thanks again, Kris!). In any case, I had fun riding fast on the course.
After Saturday's bad luck I was looking forward to Sunday's race, especially after riding the course- it was pretty long with several longish climbs, some fast downhills and 2 sand pits. Once again it was blazing hot (all three days the temps were above 85 and it was very sunny- great weather for spectators, but…hot). I got a good start and was riding at the front with Katie, Rachel and Sue, but after the sandpit (it was a tough one- slightly uphill and with a left turn at the end) Katie and I had a little gap. We rode together for the rest of the lap, but the next time through the sand pit, Katie was smooth and fast, and I got bogged down. She opened up a little gap that I was able to close on the back side of the course, but the next time through the sand I bobbled again and she got a gap that stuck. I worked hard to bring it back, and it stayed about the same for a few laps, but it opened up more on the last lap. I suffered for sure, but I enjoyed the course and got some good racing in, so I was happy.
All in all, the weekend was a lot of fun: the locals were super friendly and fired up about 'cross- and that always makes the racing fun. Thanks to everyone who came out and raced and cheered! And thanks to the McKays for putting me up and carting me to and from the airport and the races.
And thanks to the woman who gave me this awesome cowbell while I was cheering for the cat 4 guys: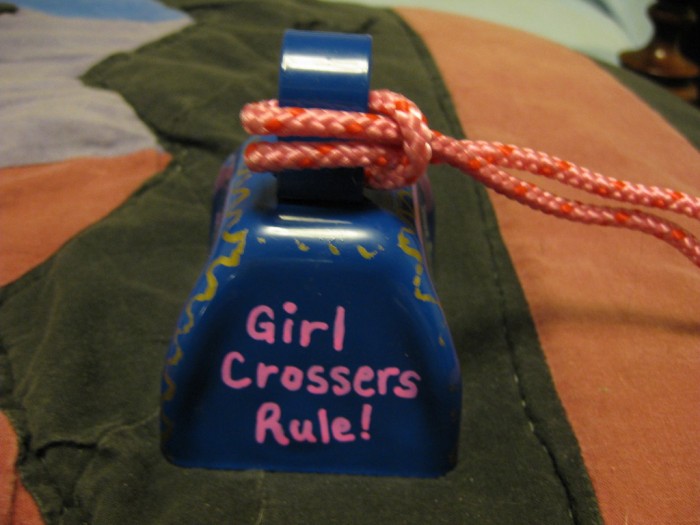 ---