30 October 2008 | Misc
SuperFan
I mentioned Superfan in my last post. He is a legend at Ohio Valley MTB races, but new to 'cross racing. He was out at the venue for all the amateur and elite races- a real super fan. Hopefully he enjoyed it enough to come out to more races!
There's only one thing to do in a 'cross race: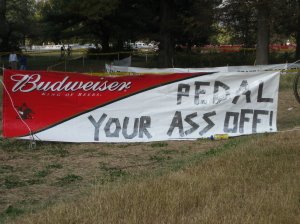 SuperFan hard at work, heckling racers in the sand pit: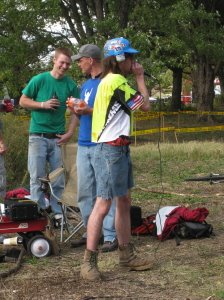 SuperFan sold these T-shirts to rent the PA system he was using to play death metal (and a little Sir-Mix-A-Lot if I remember correctly) and heckle racers:

If anyone is interested in buying a SuperFan T-shirt and helping support the cause, here is the info (shirt has silhouette of SuperFan on front and "in SuperFan we trust" on the back):
$10 + $5 for shipping.
Myspace: www.myspace.com/superfan69
Facebook: Superious Fannington
SuperFans email: superfan69@gmail.com
SuperFan's Agent: louevilcyclist@gmail.com
Facebook: RJ Harris
I think he's trying to get to the second round of the USGP — and admit it folks, you need the heckling!
---