4 April 2009 | Recipes
Winter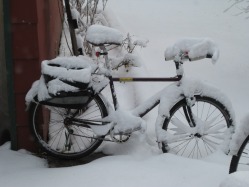 Winter is making up for lost time here in Fort Collins.  We woke up this morning to about 4 inches of wet snow and lots of wind.  Luckily I have a day off today, so I can enjoy sitting inside, drinking tea and updating my blog.  Ben and I managed to get out on trails on Thursday and Friday which is good because I think we're going to be road riding for the next few days…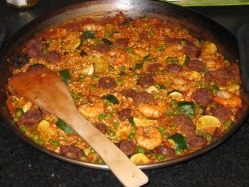 Last night I made a delicious paella.  I have figured out that the grill is the best place to cook paella because the heat is more even under the pan (rather than having to straddle two burners on the stove).  Paella is a delicious and easy one-dish meal.  Try it!
Here's what I did:
1 can diced tomatoes, (puree tomatoes and juice)
1/2 onion, thinly sliced
2 cloves garlic, minced
1 tsp sweet paprika (can be found at Whole Foods or any well-stocked grocery)
2 pinches saffron
2 cups chicken stock
2 cups arborio rice (or other short-grain rice)
1/2 lb shrimp, peeled
1/2 lb sausage (I used spicy buffalo andouille- yum!)
2 small zucchinis diced
1/2 cup frozen peas
1/2 cup dried mushrooms, soaked in 2 cups boiling water until soft- save the soaking liquid)
I have a big, flat paella pan that I cook this in, so it is easier to cook it on the grill, but you could adjust the recipe and make it  in 2 skillets instead (stainless steel preferably, NOT nonstick).
First, season the shrimp with salt and pepper and saute them in olive oil until 1/2 done, same with the whole sausages (you don't need to season them).
Then, slice the sausage and set it aside with the shrimp.
With a little oil in the pan, add the tomato sauce and the onion, and cook over medium heat until the sauce becomes darker and pasty, then add the garlic, saffron and pimenton and cook just a minute more to bring out the flavor.
Then add the chicken stock and the mushrooms with the soaking liquid. Bring to a boil.
Next sprinkle the rice evenly over the whole pan (you can use a spoon to make sure the bottom is coated evenly).
Next, add the zucchini, peas, shrimp and sausage evenly over the whole pan. DON'T STIR. Cook for about 5 mins on high, then reduce the heat to low and simmer until the liquid is almost all absorbed (the rice should be al dente). Did I say don't stir?
Remove from heat and let sit 5 mins before serving.  Enjoy!
---