Thai Food
Most of the time I'm cooking for 2, but there is only so much food that 2 people can eat, so I rarely get the opportunity to plan and create a real feast.  But yesterday, Ben and Megan came up to Fort Collins for dinner, and that gave me a great excuse to try some new recipes.
Here was the menu:
Fresh rolls (lettuce, carrot, cucumber, cilantro, mint, and shredded coconut wrapped in rice paper) with peanut sauce
Jasmine rice
Shrimp in yellow sauce
Green curry with tofu, vegetables and Thai basil
Stir-fried chicken with ginger and mushrooms
and for dessert…
Lime tart with fresh raspberries (ok it might not be a typical Thai dessert, but it sure was tasty!)
Fresh rolls with peanut sauce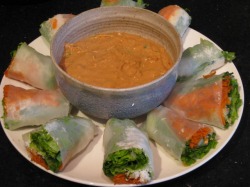 Lime tart with raspberries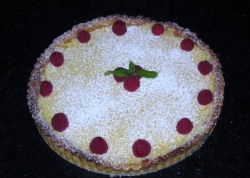 I forgot to take pictures of the other dishes before they were decimated, so you will have to use your imagination, but everything was a success.  It took a long time to get all the prep work done (I made all the curry pastes from scratch), but it was worth it- I think I made the best green curry I've ever had!  The lime tart wasn't too shabby either…
Here is a recipe for the peanut sauce- it is super easy and great for dipping, or mixing with rice, noodles or veggies.
Peanut Sauce
1/4 cup natural peanut butter (I like chunky)
2 tsp soy sauce
1 tbsp brown sugar
1 tbsp fresh lime juice (half a lime)
1/4 cup coconut milk (you can sub water if you want)
1 clove garlic, pressed or minced finely
1 tsp fresh grated ginger (or finely minced)
a little chopped fresh cilantro
red pepper flakes to taste if you want it spicy
just whisk everything together in a bowl- it's that easy!
this recipe makes about a cup- but you can double it easily.
---