3 June 2010 | Recipes
More Tarts, Wendy!
Admittedly, all this food looked much better in real life…
Blueberry tart with lemon curd and a goat cheese crust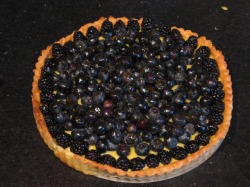 Ginger-cilantro farro

Roasted beet and lentil salad with fresh basil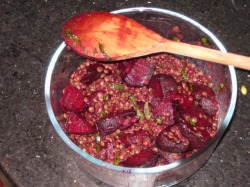 Grilled veggies with mango-sesame sauce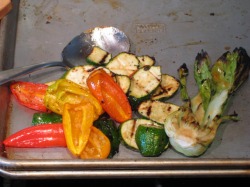 Mango-Sesame Dressing (from Bon Appetit)
(makes about 2.5 cups)
3/4 cup vegetable oil
3/4 cup Major Grey's Mango Chutney
6 tbsp rice vinegar
7 tsp soy sauce
1.5 tsp toasted sesame oil
1.5 tsp dijon mustard
1.5 tsp red pepper flakes
3 cloves garlic
Put everything in a blender and blend until smooth. Store in fridge
This makes enough dressing to grill one night and make an Asian chicken noodle salad the next.
I marinated chicken breasts in this dressing (with some salt and pepper) for an hour or so, then grilled them.  I also brushed some veggies (peppers, zucchini, baby bok choy) with the dressing, and grilled those.
The next night I made some whole wheat linguini which I tossed with sliced leftover chicken, veggies and sauce.  It was a big hit with Dusty.
And on to dessert…
My mom makes a delicious fruit tart with a cream-cheese crust, and for awhile now I have been pondering substituting goat cheese for the cream cheese.  Well, I finally did it, and it was a total success!  The goat cheese flavor is very mild, and it works really well with the fruit and the tangy lemon curd.  (Although, I think it would work well with just about anything, sweet or savory.)
Blueberry Lemon Tart With Goat Cheese Crust
Goat Cheese Crust:
4oz plain goat cheese
6tbsp butter in chunks
1 cup flour
Lemon Curd:
3 eggs
3 egg yolks
3/4 cup fresh lemon juice (about 7-8 lemons I think)
1 cup sugar
1 tbsp lemon zest
6 tbsp butter, cut into pieces
Topping:
1/2 pint blackberries
2 pints blueberries
2-3 tbsp apricot jam
For the crust:
process in food processor until it comes together in a ball -shape into a disk and chill 30mins
line with foil and rice/beans and bake at 425 for 5-10minutes, then remove foil and bake another 10mins or until crust is lightly browned
cool on a rack
For the curd:
fill a sauce pan with some water and bring it to a simmer
set a fine mesh strainer over a medium sized bowl
in another metal bowl, whisk together the eggs, yolks and sugar
whisk in lemon juice
put the bowl over the simmering water (it shouldn't be touching the water), and whisk constantly until the mixture thickens (about 6 minutes)
this part will happen fast- nothing happens, nothing happens, and then it thickens very quickly
pour the mixture into the strainer and strain into the bowl -mix in the butter and when it is fully incorporated cover with plastic wrap (the plastic should touch the top of the curd- that way it won't form a skin as it cools) and chill until needed
For the topping:
When you are ready to assemble the tart, spread the curd evenly over the crust, place the blackberries around the edge, and mound the blueberries in the middle heat the apricot jam in the microwave (you may need to add a little water) until it is thin (30 secs or so), and brush the berries with the jam (this gives the tart that nice glazed look)
---