30 June 2010 | Race Reports
Pro XCT #4: Mt. Morris, WI Race Report
Last weekend Waldek, Zak, Amy and I headed off to Wisconsin for the 4th round of the Pro XCT.  I'd never raced or even ridden my mountain bike in the midwest, so I was curious to see what the event would be like.  I had heard that the WORS series had big turnouts, but I was really impressed with how many people were out at the race.  It was like the old days (or what I imagine the old days were like)!
We arrived on Friday afternoon with just enough time to get in a couple of quick laps on the course.  The lap was short- about 4 miles, but it had a little bit of everything: short, punchy climbs; fast singletrack; tight switchbacks; a few rock gardens and plenty of places to pass.  Not only that, but the course wound around the venue making it very spectator-friendly.
I got a good start and was right on Willow's wheel going into the first section of singletrack.  We rode together for a few laps (it's always fun to ride behind Willow in singletrack- she is fast).  So… I was riding behind Willow on one of the downhills thinking about how awesome I was and how fast I was riding to be staying with Willow, when I clipped my bars on a tree and crashed.  It happened so fast that I made one of those comic book sounds: "ooomph"- luckily there were some spectators there to witness it (and hopefully have a good chuckle).  Willow was kind enough to ask if I was Ok before she dropped me.  So I gathered myself up, changed my self talk from "you are awesome" to "you are a dork" and started chasing.  Luckily, I was able to catch back up by the end of the lap, and we rode together a little while longer.  I was feeling fantastic though, and at one point I went around on a climb and opened up a gap which I was able to hold until the finish.  It was a tough race, and I was really psyched to win.
The next day was the short track.  The pro course was different than the amateur course- there was a big climb and then a descent into a slippery right hand turn that I could not seem to ever ride around fast.  I got a terrible start, and it took me a few laps to get up to the front, and by then Katie had a pretty solid gap.  I didn't really have any extra zip, and so I just rode as steady as I could the whole time.  It was hard, but I was able to finish second so I was pleased with that.  (Even though, as Waldek likes to point out: second place is the first loser…)
Overall, I was very impressed with the event.  The course was great, there were tons of spectators and lots of amateur racers and kids.  I'd say it was the best national series race we've been to in awhile- hopefully we'll be back next year.  Thanks to everyone who came out and cheered- it always helps me dig a little deeper!
On the LUNA team, when you are leading the eries, you get the "whirlpool suite. This place was awesome — only about a mile from the venue.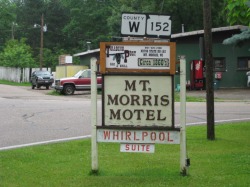 Hot tub party in my room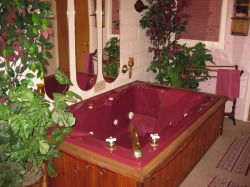 ---