16 April 2011 | Race Reports
Sea Otter Classic: Short Track Race Report
Another year, another Sea Otter. Some people dread it- but I love it. It's  a huge festival, there are always a ton of spectators and usually a very competitive field. This year, the field is a little smaller because the first World Cup race is next weekend in South Africa. Nevertheless, there were plenty of fast women that showed up for yesterday's short track.
It seems like every year they pare down the course and it becomes shorter and there are fewer places to pass. Like last year, the first corner was a rutted, off-camber punchy climb which was sure to cause a pile-up on the first lap. After that first little hill there was a short, flat section and then another short steep climb. Then you traverse the hillside on a bumpy singletrack before a quick descent and a hairpin turn into the start/finish.
I knew getting the hole-shot would be the best way to stay out of trouble, so that was my goal (Ok, that's always my goal). I got through the first corner no problem and led for the first lap with Lea right on my wheel. It seemed like we had a little gap over everyone else though, so that was good. After a few laps I began to pull away from Lea- I tried  to ride conservatively, but the two short climbs were steep enough that you had to go hard to make it up them. "We'll probably be getting 3 laps to go soon," I thought.  Except we weren't even halfway done. I rode lap after lap, hoping to get lap cards, and every time nothing. The short efforts were taking a toll and I was getting tired; I was also starting to catch more lapped riders which was slowing me down. Most of the course has only one good line, and unless you want to take your chances passing in the tall grass filled with bumpy ruts you are sort of reliant on lappers letting you by. I guess I wasn't being vocal enough, but I had a few people try to block me as I was trying to pass. Luckily I had enough of a gap that it was never really an issue, but it was frustrating. Finally, after what seemed like a REALLY long time, I finally got 3-laps-to-go. My legs were pretty blown, but I was able to stay off the front and win by a few seconds over Katerina and Emily. Whew. Longest short  track ever.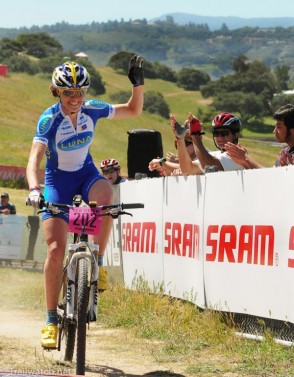 Looking forward to today's XC race. The course has even less dirt than last year, which means it will be way more tactical and probably way more exciting.  Let's hope my road-racing skills aren't too rusty (let's see…my last road race was…Redlands 2006.  Oh well…)
---