25 February 2012 | Food, Recipes
The Best Homemade Energy Bars
The racing season is almost upon us, and many of us are already busy training. Obviously, everyone's first choice for training and race fuel is Clif Bar products, but what if you can't get any and have to scrounge up something in your own kitchen? I recently had a fellow cyclist ask me if I had a good recipe for home-made energy bars. In the past, I made my own energy bars quite often, but I never really had a go-to recipe- I just sort of threw stuff together. They were good, but I wanted to come up with something GREAT. So I did some research. There are basically two types of recipes: baked and not baked. My first priority was taste, but I wanted to come up with a recipe that was easy enough for someone who doesn't spend much time in a kitchen, so I settled on a no-bake recipe that requires minimal prep work. I headed to the kitchen, and after a few batches, lots of taste-testing by Dusty and some friends and some how-does-it-hold-up-in-my-jersey-pocket testing by myself, I've settled on what I think is a truly great recipe. Below I've included 3 different options that I think are each delicious in their own way. Rumor has it they make a pretty darn good on-the-go breakfast too…
So enjoy! And please let me know if you like them and if you have any suggestions!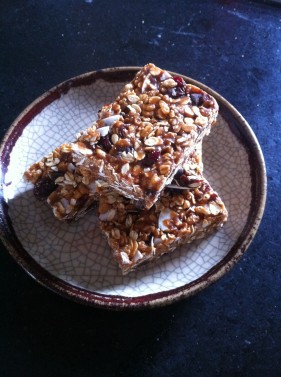 A few notes about ingredients:
-Feel free to sub any dried fruit/nuts/seeds you like.
-I tried a few batches with honey as the sweetener, but they ended up too sweet for my taste. I think brown rice syrup or barley malt syrup work best for providing the right amount of sweetness and texture, but you could sub whatever liquid sweetener you like.
-As far as nut butters go, you can sub whatever type you prefer, but I think using smooth nut butters are best (the chunky ones make a thicker/drier binder).
-I store these in a ziplock bag in the fridge, but they are fine stored at room temperature too.
Fruit-Seed Energy Bars
-grease a 9×11 glass baking dish
1c rice crispies
1c rolled oats
1c sunflower seeds
1c pumpkin seeds
1c goji berries (these are kind of spendy, but you can sub any dried fruit or nuts)
1/2c raisins
1/2c dried cherries
1/2c unsweetened shredded coconut
-mix in a big bowl
1c smooth almond butter
1c brown rice syrup or barley malt syrup
-heat over medium heat, stirring frequently, until hot and well mixed (should only take a few minutes)
-pour over dry ingredients and mix well (work quickly because as it starts to cool, it will be harder to work with)
-pour everything into greased pan and press down evenly (spray a little cooking spray or oil on your hand to prevent sticking)
-really make sure to pack it down well, otherwise your bars might not hold together
-optional: sprinkle the whole thing with sea salt
-chill for at least one hour (preferably 2-3) before cutting into squares
-I run a butter knife around the outside of the dish and then flip it over onto a cutting board so I can cut the whole thing in squares more easily
Super Peanutty Chocolate Chip Bars
-grease a 9×11 glass baking dish
2c rice crispies
2c rolled oats
1c peanuts (I use salted)
3/4-1c chocolate chips
-mix together in a big bowl
1c smooth natural-style peanut butter
1c brown rice syrup
1tbsp coconut oil (you can sub butter, or leave it out, but I think it helps with texture)
-heat over medium heat, stirring frequently, until hot and well mixed
-combine peanut butter mixture with dry mixture until well mixed
-pour into greased baking dish, press down firmly and evenly, sprinkle with salt (if you like, or leave it out)
-chill at least one hour, preferable 2-3hrs
-cut into squares
Chocolate Coconut Bars
2c rice crispies
2c rolled oats
1c dried cherries
1c shredded unsweetened coconut
1/2-1c chocolate chips
1c brown rice syrup
2/3c coconut manna (I found it a Whole Foods, but you can find it online here)
1/3c almond butter
---