15 May 2012 | Race Reports
World Cup #3 Nove Mesto, Czech Republic: Race Report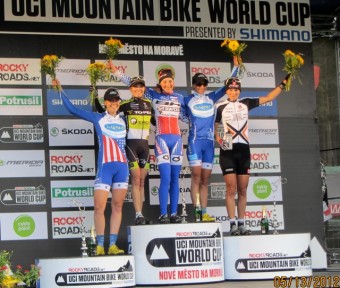 Nove Mesto might be my favorite World Cup. It's not just the course (which is really fun as well as physically tough and technically challenging), but the spectators come out in droves, line the climbs and they CHEER. They really get after it here. The course is fairly short (our race pace laps were 16 minutes) and it's compact which makes it great for spectators. There are 5 climbs and 4 descents and most of the course is wide which allows for multiple line options almost everywhere. Throw in lots of roots, some rocks and some man-made technical features and you have pretty much the perfect race course. And for those of us who didn't have a front row start, the start loop offered plenty of passing which is always a plus (especially after the start loop debacle in Houffalize).
I lined up in 27th and had a decent start off the line. A few seconds into the race, before we even rounded the first turn, I heard a huge crash behind me. Then, in the next turn I heard squealing brakes and saw a crash happening in front of me to the right. I grabbed my brakes, skidded sideways and barely missed the next crash. "Take it easy ladies, there's plenty of time to race- no need to be crashing each other," I thought- but of course while I was having that nice chat with myself, women were passing me. I was probably somewhere in the 20s, and as we hit the first downhill on the start loop a few more women flew by me. What the…? Pull it together! I knew from past experience that you could lose a ton of time if you were in the back of the pack in the first singletrack downhill, so I forced myself to be more aggressive.
On the next climb, I passed a few women but was still somewhere around 20th as we hit the first singletrack downhill. As I came through the start/finish I saw on the clock that I was already 1 minute down on the leaders. Already? After a 9-minute start loop? That's not good… I settled in and just focused on picking people off one by one. My legs felt good, and I was making up tons of time on the climbs, but I was losing a little time on the downhills (Side note: I was riding my new Orbea Alma 29er which gave me a ton more confidence on the descents and technical sections, but apparently I need a 39er or something to ride as fast as some of those girls!)
Anyway, Catharine had also had a less-than-stellar start, and we rode together through the field, trying to claw our way back up to the leaders. Two women were off the front, but there was a chase group of about 5, and we were reeling them in. At the start of the last lap we made contact, and the group split apart. Then it was just me, Catharine and Katerina riding together and trying to reel in the leaders (Julie and Irina). I have to say, riding anywhere near Katerina was pretty awesome- she is from the Czech Republic, and the crowd was going NUTS. Katerina passed me about halfway through the lap, but I was able to stay within a few seconds with Catharine just a few seconds behind me. My legs were getting pretty tired, but I knew I still had some time to make something happen.
As we headed through the second feed zone, Catharine passed me and said "Blaza's coming." I looked back and saw that yes, Blaza was indeed coming. She was about 10 seconds behind us, but I knew I had enough left in my legs to maintain that gap to the finish. Yeah…maybe NOW was the time to make something happen… Then, on the last climb Catharine bobbled in front me and had to get off her bike, so I had to get off my bike and run. The climb was steep and technical, and there wasn't really anywhere good to get back on, but I ran around her and jumped back on my bike at the "flattest" possible place- I was desperate not to lose the podium in the last 5 minutes of the race. I could feel Blaza closing down the gap as I flailed, trying to get back on my bike, get clipped back in and get pedaling. Finally I made it the top of the climb and headed into the last downhill just trying to not make any mistakes.
Blaza had closed down the gap, and as we came onto the finishing straight she was right on my wheel. She came around me and started her sprint really early, and I knew from watching the sprint eliminator (where nearly every heat came down to a sprint finish on the very same straightaway) that I would have the advantage if I was patient. I jumped on her wheel and waited until we were a little closer before trying to go around her. I managed to come around her right before we crossed the line to take 4th.
Finally.
Back on the podium.
I think I feel relieved more than anything (ok ok, really excited too), but it sure was nice to be back at the front end of a World Cup. My result moved me into 11th in the World Cup overall which means a little better start in La Bresse this weekend. Hopefully I can be racing at the front from the start!
---